♦♦♦♦♦♦♦♦♦♦♦♦♦♦♦♦♦♦♦♦♦♦♦♦♦♦♦♦♦♦♦♦♦♦♦♦♦♦♦♦♦♦♦♦♦♦♦♦♦♦♦♦♦♦♦♦♦♦♦♦♦♦
Barbara J Nosek ♦ author ♦ NLB publisher ♦ collection curator
Browse our ♦ "Aisles" ♦ below . . .
1}  Weekly Main Feature  2}  Reader Finds  3}  My "Help & Hints" Books & Faves  4}  Amazon Top Books & Links  5}  Works by Friends of NLB  6}  Gift Shop for Readers
♦♦♦♦♦♦♦♦♦♦♦♦♦♦♦♦♦♦♦♦♦♦♦♦♦♦♦♦♦♦♦♦♦♦♦♦♦♦♦♦♦♦♦♦♦♦♦♦♦♦♦♦♦♦♦♦♦♦♦♦♦♦
Blue text below is a live link –  mostly Amazon, but also variously SunFrog, Zazzle, ebay, CafePress, Fiverr
♦♦♦♦♦♦♦♦♦♦♦♦♦♦♦♦♦♦♦♦♦♦♦♦♦♦♦♦♦♦♦♦♦♦♦♦♦♦♦♦♦♦♦♦♦♦♦♦♦♦♦♦♦♦♦♦♦♦♦♦♦♦
♦  Aisle 1 – Weekly Feature  ♦
A "golden' read for folks of all ages
Aug 26-Sept 1.2016  It's sort of amazing how "The Golden Girls," both the show and its stars, still manage to attract new fans and permeate our pop culture. The book, "Golden Girls Forever," though subtitled "An unauthorized look behind the lanai," sure does a great job of bringing so much of the back story to this fabulous read.
In the beginning chapters we're treated to the tale of the show's origins, profiles of the four main characters, an inside look at the auditions, and impressions right from the stars' mouths about their initial and ongoing reactions to the show. And early on we
realize there are going to be pictures, pictures, pictures.
The largest section of the book is a wondrous trip down memory lane, a series of vignettes each focusing on a particular episode with quotes and quips from selected cast and crew members about notable moments on and off the screen. I think I can safely say you'll never watch another rerun in quite the same way.
The remaining chapters take us on a tour of the set design for the various rooms and lanai and then visits to the departments for props, wardrobe, and theme song. Some fun wrap-ups include foks weighing in on "Which Golden Girl Are You," "Who Did You Watch the Show With," and "Which Golden Girl is Your Favorite," and then a closer look at just how high profile the show remains to this day.
This coffee table style book is a best seller on Amazon, rated 4 1/2 stars, currently discounted to $22.48 vs regular price of $35.00. You'll also find links below to books by the GG stars, and the Amazon pages will feature additional show options.
"Golden Girls Forever" ♦ Books by Betty White 
"My First Five Husbands" by Rue McClanahan 
"If Knew Then What I Know Now . . . So What" by Estelle Getty
♦♦♦♦♦♦♦♦♦♦♦♦♦♦♦♦♦♦♦♦♦♦♦♦♦♦♦♦♦♦♦♦♦♦♦♦♦♦♦♦♦♦♦♦♦♦♦♦♦♦♦♦♦♦♦♦♦♦♦♦♦♦
♦ 

Aisle 2 – Reader Finds

  ♦
My new publication can be your best friend in the kitchen
Aug 26-Sept 1.2016  Help is just a click away for food prep, presentation and storage, even including a tip to keep ants out of the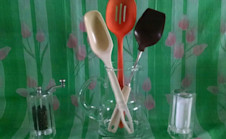 pet food and a bonus trick to get you out of a "sticky situation."
Called "50 Easy and Helpful Kitchen Tricks," it's on Fiverr which means it's delivered electronically and in a hurry. The link will take you to a fuller description of the content.
Meanwhile did you know there's an Amazon Prime just for students? Includes free 2-day shipping on textbooks & other school supplies plus promos exclusively for students. Free 6-mo trial. Learn more
Previously featured Reader Finds
♦♦♦♦♦♦♦♦♦♦♦♦♦♦♦♦♦♦♦♦♦♦♦♦♦♦♦♦♦♦♦♦♦♦♦♦♦♦♦♦♦♦♦♦♦♦♦♦♦♦♦♦♦♦♦♦♦♦♦♦♦♦
♦ 

Aisle 3 – My "Help" Books & Faves

  ♦
My  Kindle books & more published by NLB
♦  "Dieter's Survival Guide" on Amazon – taking the "fat" out of everyday situations
♦ "The Busy Person's Diet Guide" on Amazon – everything in DSG in fast-reference form
♦ "The Dining Out Chapters" on Amazon – the DSG guide to buffets, fast food, fine dining
♦ "Holiday & Party Chapters" on Amazon – the DSG guide to celebrating without guilt
♦ "Snacks & Subs Lists" on Amazon – the DSG guide to little treats & substitutions
♦ "50 Easy and Helpful Kitchen Tricks" on Fiverr – prep, presentation, storage
♦ "Can This Help You FINALLY Quit Smoking" – on Amazon – powerful declarations
♦ "Be a Better Business Writer in Nine Easy Steps"  – on Amazon – instant improvement
♦ "Celebrity Chef Book of Links" – on Amazon – restaurants, recipes, contact, websites
My Faves
♦ Celeb chef cookbooks, listed here on NLB page
♦ Previously featured books from Aisle 1 listed chronologically on this NLB page
♦♦♦♦♦♦♦♦♦♦♦♦♦♦♦♦♦♦♦♦♦♦♦♦♦♦♦♦♦♦♦♦♦♦♦♦♦♦♦♦♦♦♦♦♦♦♦♦♦♦♦♦♦♦♦♦♦♦♦♦♦♦
♦

  Aisle 4 – Top Books on Amazon & Links  

♦
Click right here to the books that your fellow readers have bought and loved
Best Selling Novels on Amazon ♦ Best Rated Novels on Amazon
Best Selling Non-Fiction on Amazon ♦ Best Rated Non-Fiction on Amazon
Best Selling Children's Books on Amazon ♦ Best Rated Children's Books on Amazon
Kindle Store ♦ Best Selling Kindle Books on Amazon ♦ Best Rated Kindle Books Amazon 
 Other Amazon links:  Home Page ♦ Book Deals of the Day ♦ Kindle devices 
♦♦♦♦♦♦♦♦♦♦♦♦♦♦♦♦♦♦♦♦♦♦♦♦♦♦♦♦♦♦♦♦♦♦♦♦♦♦♦♦♦♦♦♦♦♦♦♦♦♦♦♦♦♦♦♦♦♦♦♦♦♦
♦ 

 Aisle 5 – Friends of NLB 

♦
Some works by friends of the site, but not published by NLB
Fiction and non-fiction books about Las Vegas, a personal divorce court account, BBQ cookbook, free online recipe newsletter, and novels variously offering adventure, intrigue, and food tales, all found on this NLB page
♦♦♦♦♦♦♦♦♦♦♦♦♦♦♦♦♦♦♦♦♦♦♦♦♦♦♦♦♦♦♦♦♦♦♦♦♦♦♦♦♦♦♦♦♦♦♦♦♦♦♦♦♦♦♦♦♦♦♦♦♦♦
♦

 

Gift Shop for Readers

 

♦
Finding presents for your reader friends couldn't be easier
From Amazon:  Reading Lamps ♦ Book Lights ♦ Bookmarks ♦ Bookends ♦ Book Shelves ♦ Kindle Accessories ♦ Gift cards ♦ Gift cards to use on Amazon ♦ Reader Tees
Reader, Writer Tees on SunFrog     
Specialties for Readers on Zazzle ♦ Homepage for Zazzle
♦♦♦♦♦♦♦♦♦♦♦♦♦♦♦♦♦♦♦♦♦♦♦♦♦♦♦♦♦♦♦♦♦♦♦♦♦♦♦♦♦♦♦♦♦♦♦♦♦♦♦♦♦♦♦♦♦♦♦♦♦♦♦